Midlife is a stern, unforgiving teacher. Other than that I liked it a lot.
I am teaching a class at my church right now about midlife, and as every teacher knows I am learning far more about the subject than my students. We are using a fine book, but I am freely supplementing the book with some of my own reading, research, and commentary. I am, after all, a midlife survivor, with scars to prove it. (The scars are real, not metaphorical, and have been left by a series of dermatologists.)
While getting ready to teach the class I learned that most people like to attach the word "crisis" to the word "midlife," as though the only conversation we can have about midlife is about the crisis that sometimes goes with it.
Far more helpful than the word "crisis," I think, is the so-called U-curve hypothesis, which rather nicely summarizes what many of us face. We go from young adulthood to midlife filled with anticipation and high hopes about what life will bring, believing what our parents and teachers have foolishly told us about following our bliss, only to run into obstacles, some of our own making and others that are inevitable as we age.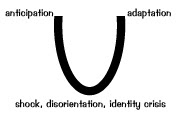 When I graduated from seminary, for example, I imagined that I might become a superstar preacher with my own television network (and satellite). To tell the truth, I have had a deeply satisfying ministry over the years, but the television part of it has, sadly, eluded me. I once appeared on an AM-radio talk show, but that was only for an hour, less commercial breaks (and news on the half hour). And my appearance was to talk about the church and social media, not to present the gospel. I would be surprised if we had more than five listeners. And yet, I spoke that Saturday evening as though to a stadium with 50,000 people. (I was not invited back.)
The bottom of the U-curve varies among countries, but the global average seems to be age 46. In case you're interested, the Swiss reach the bottom part of the curve at the startlingly early age of 35. In any case, the late 40s and early 50s seem to be the age where disappointment, dissatisfaction, and discouragement can add up and become for some a full-blown crisis.
But the good news, I was happy to discover, is that there is life after the dip.
In fact, the 60s, 70s, and even 80s can be (according to the research) wonderful years. Older people tend to be happier, even though we don't always look like it. This is counter-intuitive, I suppose, and income and education are factors too (as they are at every age), but generally speaking it's not so bad to grow older. My yearning to be a superstar preacher, for example, has mostly disappeared, and I find myself deeply grateful for the few people who show up each Sunday morning to hear me preach.
All of this happiness in old age assumes, of course, that you can escape midlife with relatively few bone-headed decisions, the kind all of us are tempted to make when we're feeling disappointment, dissatisfaction, and discouragement. If you are contemplating one of those decisions right now, give me a call. I will do my best to talk you out of it. You don't really need a convertible.
As a pastor, I tried of course to put all of this midlife talk in faith perspective, and in the class I even presented some impressive-looking charts and graphs about faith stages. Along with everything else, faith begins to look and feel different at midlife, a bit thicker around the middle. And then, as it ages, it tends to grow into something wonderful.
Earlier in my life, for example, it was important to me to be right – and to convince other people of the rightness of my thinking about most things. It was tiring to be right all the time, but I thought I was called to that important ministry. I forget now when it happened, but I seem to have let go of that need or whatever it was. I still know what I believe, but I am far more relaxed when I talk about it. I can listen to other people, even when I don't agree. I can even change my mind. What's different is that my faith has become part of me, not something I admire or debate or throw at other people. It's who I am.
Next month I will be heading down to Lake Zürich after morning worship for a few baptisms by immersion. Since I agreed to do my first one, a few more requests have come along. I'm not sure that "midlife Doug" would have agreed so easily, but "older Doug" is surprisingly accommodating and willing to get wet, to wade out into the water with his clothes on.
There's no telling what "older Doug" might do or say (or write) next. This next stage of life might even be fun.
(Top photo: Yes, that's my convertible, the stereotypical midlife decision, purchased at age 44 and sold nine years later. Lots of fun, but very expensive. Next photo: Yes, that's me, trying out a career in AM-radio at WJR in Detroit.)